Ducted Reverse Cycle Air-Conditioning
Whole house comfort all year round!
Why Choose A Ducted Reverse Cycle Air-Conditioner?
If you are after an air-conditioning system which provides both heating and cooling to your whole home or office, then a Mitsubishi Electric ducted reverse cycle air-conditioning system would be the perfect solution!                                                                                       
These systems offer state-of-the-art technology. They are simple to use, quiet, energy efficient and above all, reliable! Available in three series, the systems are made to produce clean air at the desired temperature.
A ducted reverse cycle air-conditioner allows you to zone selected areas which helps reduce energy consumption meaning greater energy savings!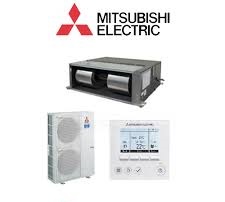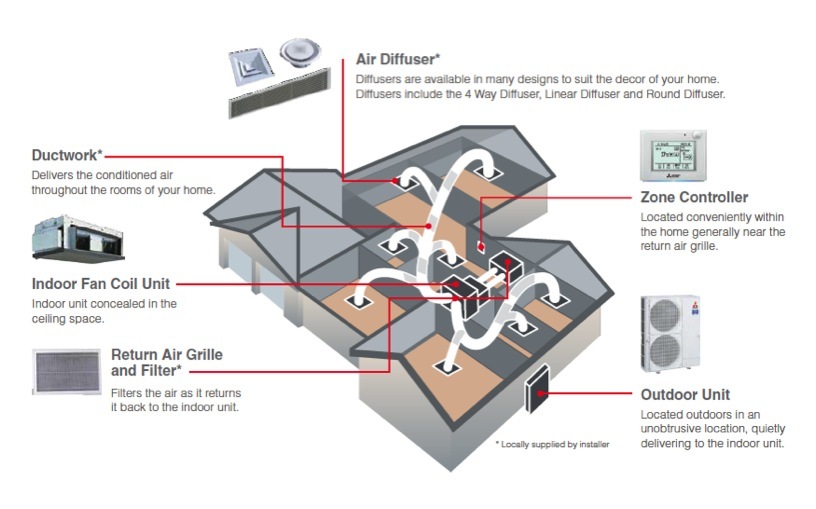 How Do These Systems Work?
A ducted reverse cycle air-conditioning system consists of:
An Indoor Unit
An Outdoor Unit
Controller
Duct Work
Ceiling Or Floor Diffusers
Return Air Grille And Filter
The outdoor unit provides the refrigerant and power to the indoor unit which can either be located in your roof or under your floor. Once the refrigerant and power reaches the indoor unit then air distributes through the duct work to the allocated rooms via ceiling or floor diffusers. The air distributed is then filtered and returned to the indoor unit via a return air grille.
Control Your Air-Conditioner At Your Finger Tips!
Control and monitor your air-conditioner from anywhere at anytime with the additional Wi-Fi Adaptor!